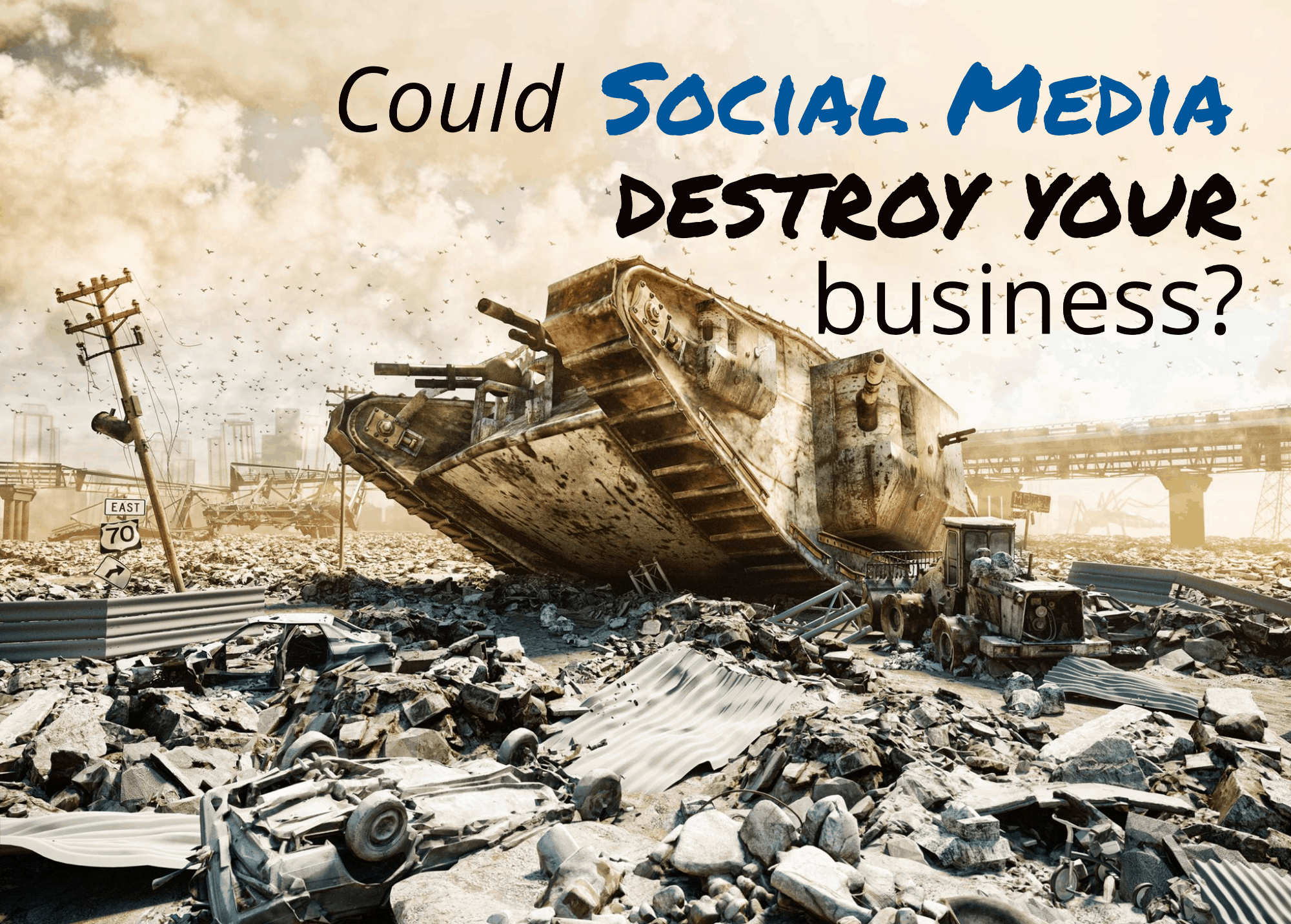 Facebook's stark warning came suddenly. 
Unexpectedly. Completely out of the blue.
They were threatening to restrict my account.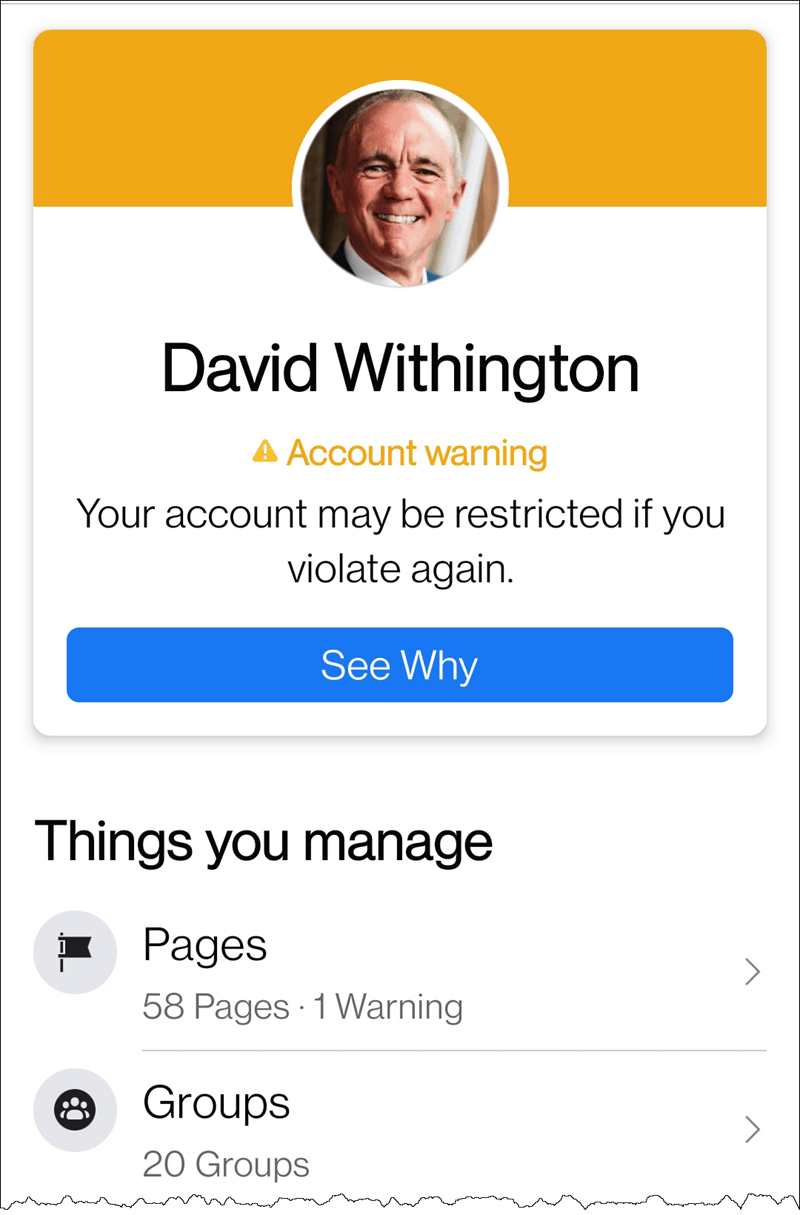 How Had I Offended Facebook?
What had I done wrong?
What was the violation I'd been accused of?
Were all those years of work about to be deleted?
That's actually been known to happen to people. No discussion, no negotiation. Their accounts were simply deleted!
Those are the Facebook rules you agree to.
All my 58 pages and 20 groups, representing years of dedicated work, could be gone in a keyboard stroke.
By the decision of an uncontactable Facebook employee sitting at their desk in a distant country.

My heart pounded.
I didn't actually own some of those groups – I'd volunteered to help administer them. So other people could also be affected by this!
Why Has Facebook Given Me This Warning?
I went to investigate.
And I discovered that Facebook claimed that my post didn't follow their "Community Standards".
But why?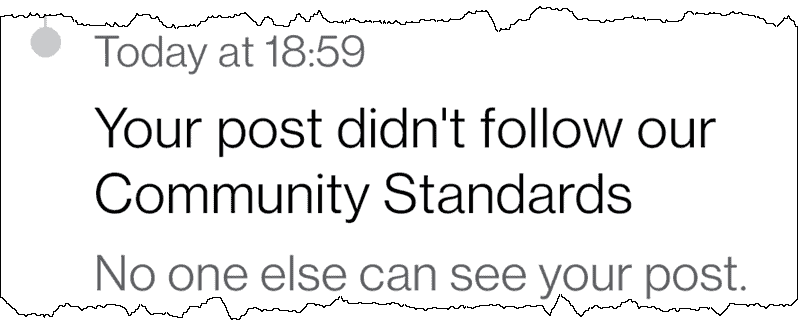 How had I broken the rule?
I tracked down the offending post to one of my pages, and I read every word.
And I double-checked it.
Then I looked again with a fine-toothed comb.
But try as I might, there was nothing that I could find which could make the post seem offensive or racist or rude – or anything which might upset any Facebook subscriber.
So I concluded it must have been a mistake by Facebook's algorithm.
I Challenged Facebook's Decision
I was tempted to just accept Facebook's decision.
But that would mean the warning would stay on my record – and it could go against me in the future.
So I appealed.
Yes, I disagreed with the mighty Facebook.

Facebook's Verdict
So what happened next?
Did they review my post?
Thankfully, yes, they did.
Then they restored it and apologised.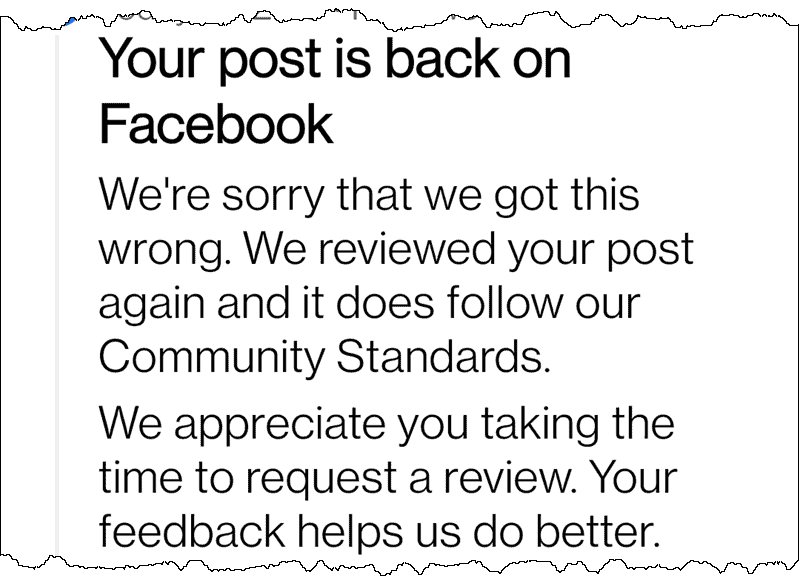 Clearly, I'd done nothing wrong. Facebook had made an error. And thankfully they corrected it.
But What If?
But what if they had still maintained their claim that I'd broke the Community Standards?
And what if it happened again? 
Eventually, I would lose complete access to my account.
Then Facebook Blocked Me
11 months later, their algorithm once more decided I'd gone against their community standards.
Again, they gave no reason.
So, again I took a good look to see what rule I could have broken, decided I hadn't, and appealed.
But this time, they didn't take into consideration that last time was their error and they'd admitted to getting it wrong.
Nope. I got blocked.

Now, I can't post to any page or group.
Here's the message that pops up whenever I try.

"Ah!" you say. Just click the let us know link. 
I did.
That goes to a generic information-collection form. 
You Can't Contact Facebook
So I tried to contact Facebook.
It's impossible.
No contact button

No email address

No telephone number
I tried a few email addresses from Google and from friends, but all those were ignored. 
There is no way to speak to, message, or reason with anyone at the Facebook Giant. 
In the meantime, I just have to hope that they get around to reviewing my appeal and let me know what – if anything – to fix.
The Critical Lessons
Never, never, never, never, never (ever) build your entire business on social media.
This worrying episode reinforced something that I've blogged about before – and I've warned friends about. It's like building on someone else's land. One day, the owner will knock down your house!
Yep – your social media accounts could disappear in a moment. Just ask a certain former US President. If they can do that to someone who was regarded as the most powerful man in the world, they can easily do it to you.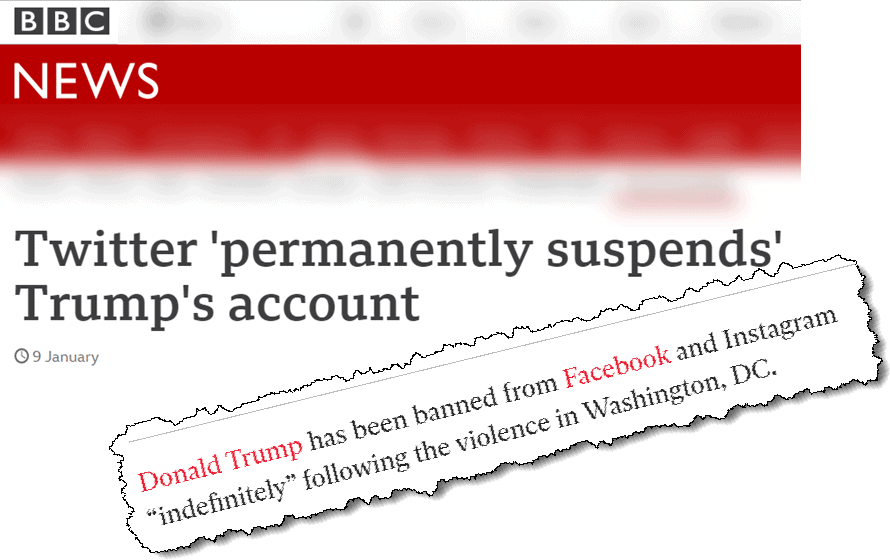 What Can I Do?
Make sure you own these two assets:
Your own website

Your own email list
If you have your own website, you're not at the mercy of Facebook algorithm or remote employee making decisions about your platform's future.
If you have an email list, you can contact your customers, clients and fans directly.
Website & Social – A Profitable Collaboration
Your website and your social media accounts can actually feed each other and work well together.
How David?
I wrote this how-to guide on how to get those assets working together very effectively and profitably.
Your Website and Social Media Working Well Together
Next Steps
Don't rely on social media. Build on your own land. Have your own website and build your email list.
Have you had any scary moments with your social media accounts? Share your experience in the comments box below.
And remember to subscribe to my email list – it's just below – so I can tell you whenever I write content like this. 
Here's why your business should never rely entirely on social media. How Facebook's mistake nearly lost a man his account, and how he resolved it. #Facebook #SocialMedia
Click To Tweet