I reviewed InVideo in July 2019.
And back then I particularly liked
The quality

The simplicity

The support

The value
But with a few more videos in the can, has my opinion changed?
My original full review is just a bit further down the page. It's unedited – including the story of the time it went wrong.
But what's different about InVideo a year on?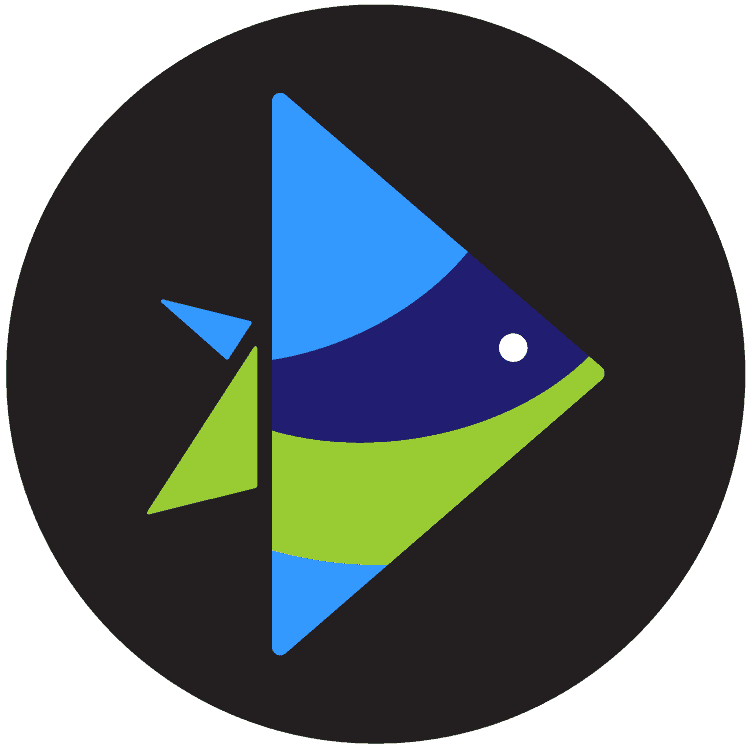 What's New in InVideo?
Apart from a fresh logo, what's changed since last year's review?
Let's take a look at some of the things:
More Video Templates
There are now hundreds of templates. Well, maybe not hundreds, but it seems like there are.
And that number is continually increasing as they add new templates into the library.

So whether I want to create…
a video introduction

a listicle

a promotion

a video for a special event
…there's usually a suitable template. 
And they're all in the package. No extra charges!
Examples of Using an InVideo Template
Here's a video I made from an InVideo template – to help some people who were feeling down during the Covid-19 lockdown.
And a couple of short promotional videos I made with the help of a template.
On this first one, check out the special intro and closing scenes which I also made from InVideo templates:
You can make your videos completely from scratch too.
They might take a bit longer – but it's rewarding and a great learning experience.
Animated Text
The most recent addition to the library is the new range of dynamic animated text.
For a while, InVideo has had some good text animation styles such as:
Fade in and out

Shift

Bounce
But the new animations are more radical.

InVideo's own demonstration of some of their new text animations
They're so new that I haven't even tried them yet. 
So why did you tell us about it, David?
I'm telling you about this to demonstrate how the team at InVideo listen to what their users want and come up with the goods. 
New InVideo Timeline
In my opinion, the timeline has to be the best feature.
Whether I want to time the appearance of a new scene, or an emoji, or words appearing on the screen at just the right time, this enables me to do it with accuracy.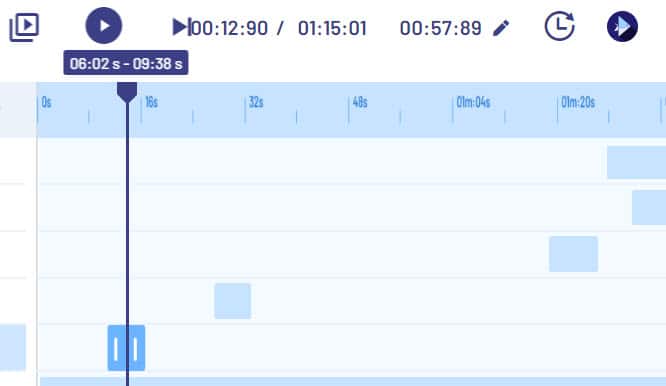 Here's a personal greeting we made for our friends' 50th wedding anniversary.
I've included this video just to show you the timing of the appearance of the objects…
As well as to show you how practical I've found it to be in both business and personal application.
What Hasn't Changed?
Thankfully, the 24/7 InVideo Support is still just as good. 
If I have a question, I can click the Live Chat button which is conveniently placed in the corner of the screen.
And within a few minutes, someone is there to help.
I've asked questions, and I've asked them to resolve a problem.
Whatever it is, every time they're on the ball and eager to help.
I haven't come across a more responsive support team for any other product.

Anyway… here's the original review from last year – with some earlier videos I made with less experience of InVideo…
The Original InVideo Review,


Published 8th July 2019
InVideo claims to be the world's most versatile video creator.
But is it any good?
And how practical is it?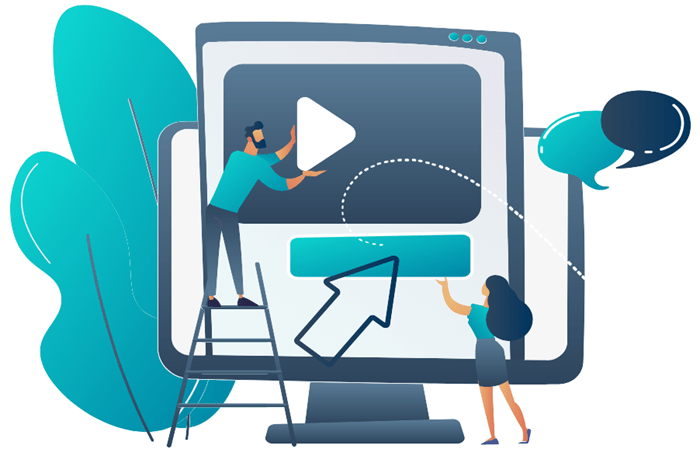 If you're thinking about InVideo, you're probably also looking at competitors like Promo and Wave.
Well, I bought InVideo. I've used it to serve my customers. And I've upgraded.
So here's my personal review and opinion.
Including the time it all went wrong!
InVideo Packages
I began with the Professional Package – which I bought from a brilliant deal on AppSumo.
Here's the link to the AppSumo deal just in case it's still running.
If not, you can get it directly from InVideo.
The Professional Package gave me
30 videos each month

Up to 3 minutes per video

Access to their standard stock photos and videos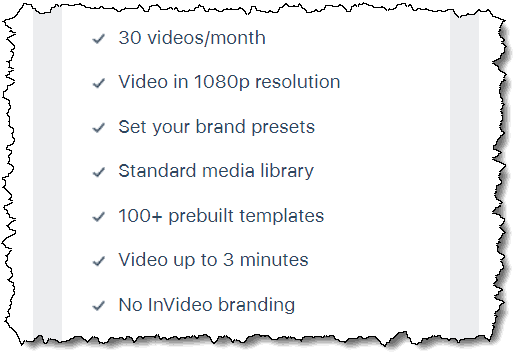 Eventually, I upgraded to the top level – the Enterprise Package – which gave me…
60 videos per month

Up to 10 minutes per video (actually, I snapped up a deal they were offering and got 13 minutes)

60 premium video clips per month from the Shutterstock video library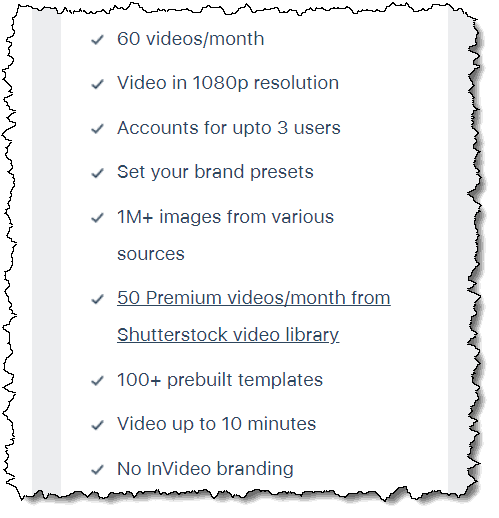 Although I'd bought the Professional package in the AppSumo deal, I subscribed to the Enterprise package as an upgrade with an annual fee.
You can pay monthly, but annually (as with most subscriptions) is cheaper.
What Sort of Videos Does InVideo Make?
As they say in Lancashire…
It's better felt than tell't.
So here's one of the short videos I made – which demonstrates the sort of videos you can make with InVideo.

Three Amazing Google Tools That Will Enrich Your Life
An InVideo video is made up of:
Images

Video clips

Text

Music (and speech if you like)
You provide the text.
But all the other media's taken care of within the programme.
So you don't need to import anything if you don't want.
But you can also upload your own:
Here's an example…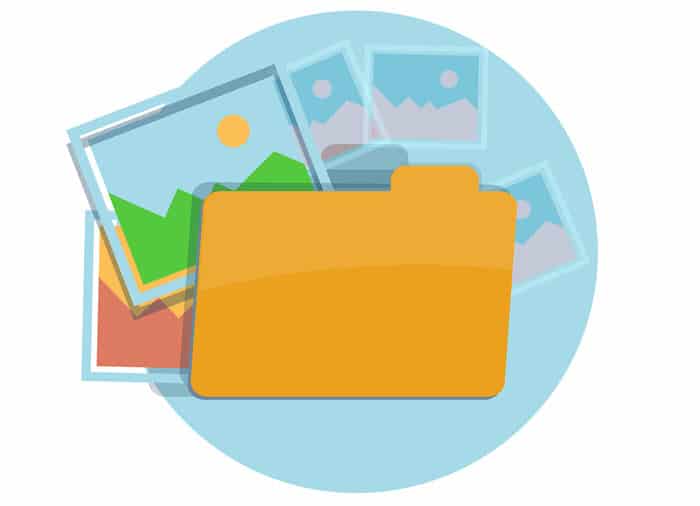 My Own Video Uploaded to InVideo
When a pigeon flew directly into our window and bounced off, I made a video from it.
Yes, you did read that correctly!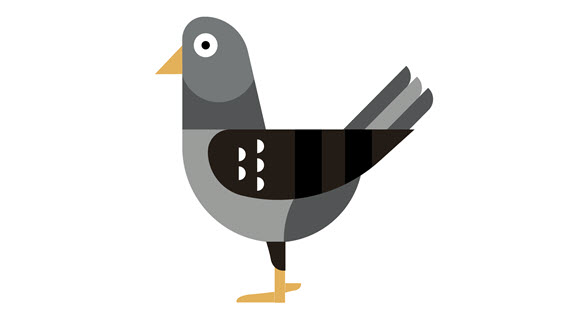 I used my own footage of the pigeon – and InVideo's stock images and video clips for the rest of the video.
But why, David? Why on earth did you create a video of a pigeon flying into a window?
Well… the collision made such a noise and made the whole house shake…
So how could I not make a video?!
Watch it. I think you'll laugh at the pigeon's misfortune – even if you like pigeons.
Can You Add a Commentary Within InVideo?
You can actually record audio within InVideo itself.
I haven't actually done that, though.
But I have recorded a soundtrack on Audacity, mixing voice and music. Then I imported that into InVideo and arranged the timing of each scene to match the audio.
Here's that video…
InVideo Practical Uses
So what can I use InVideo for, David?
Well, let me tell you what I use it for…
Promotional videos

Repurposing

Video as a service

Feedback
Give me an example, please, David.
Glad you asked.
It gives me the chance to show off a few of my videos…
Promotional Videos
Two of those videos above I made to promote Tech it Easy workshops.
So here's another promotional video which I made for my friend, Isaac, who runs a men's group…
Repurposing
Here's a blog post from my cruising website which I repurposed into a video, using a practical feature which allows you to create individual scenes from each line of text…
Offering Videos as a Service
Direct Blinds & Shutters is a local business that's been around in Wigan since 1982.
Here's a testimonial video I made for them…
Videos For Giving Feedback
When our friend, Afshin, baked us a loaf of incredibly delicious home-made bread and asked for feedback, I thought the best way to do that was in a video.
The majority of the photos and the video clips in this video are my own…
Any Problems With InVideo?
One thing to bear in mind is that the videos are made on remote servers.
With a slow broadband connection, I imagine that could present a bit of a problem. But I've always been happy with the speed (we have 100Mb/s download; around 5Mb/s upload).
It still uses your own browser to do some of its work, though.
My InVideo Disaster
After I'd upgraded, I was determined to create a much longer video.
Well, you would, wouldn't you?
So I chose a particularly long blog post to repurpose into a video.
It began with 115 scenes over 11.5 minutes.
InVideo automatically suggested some pictures to go with the various scenes. But I changed most of them.
Because this longer video was a much larger file than normal, each time I made a change I noticed it was taking longer.
A few hours into my work, everything crashed.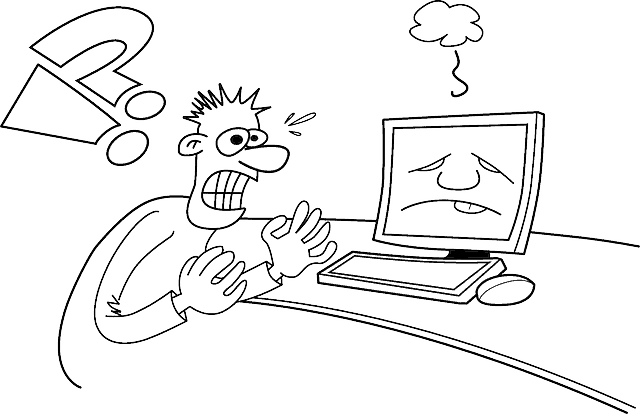 I hit refresh.
My heart skipped a beat when I discovered that my video had lost all but 12 of the scene changes.
Even though I'd been saving it as I went along, it was as though the system had undone about 3 hours of work.
Immediately I contacted the InVideo support.
And within a few minutes, they were on the case.
Despite their best efforts (and my belief in them because of experience of a previous problem they'd sorted), no one could recover the missing work.
Ever felt such disappointment?
Well, once an engineer, always an engineer.
So I asked questions.
Why did it happen?

What can we do so it never occurs again?
It turns out that
50 scenes is the recommended maximum – because beyond that there are certain browser limitations that prevent heavy media files to be loaded.
It was two days later before could bring myself to recommence work on it.
The final product was 52 scenes over 6mins 38 sec.
And it went well. The support team were right. And faith was restored.
Here it is if you want to see it…
InVideo Support
Besides the product, there are two things I like about InVideo:
The Support

The Community
Whenever I have a question or a concern (or my video doesn't quite go to plan) I can contact Support on their online chat. 
And they're always there. 24-7. Pleasant, helpful, skilful.
InVideo Facebook Group
The free, private Facebook Group is a great community, with members in various parts of the world.
People often upload their videos and ask for feedback.
One guy, a fellow InVideo user, gave me some helpful feedback on a video.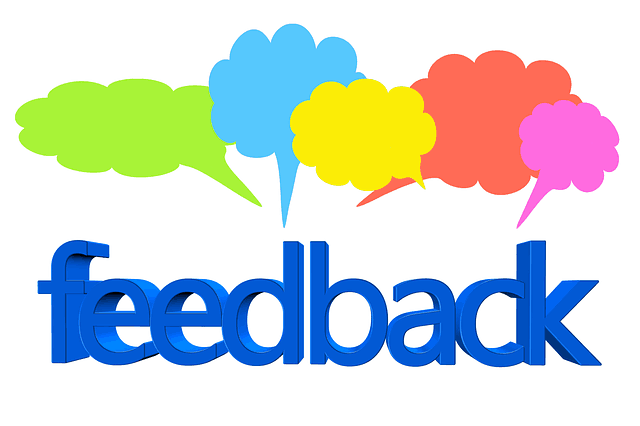 No, I don't mean "well done, that's nice."
I mean "try changing this to that, and tweaking that in such a way."
Very practical; very beneficial indeed.
The group is also a place for users to suggest additions and improvements, ask any questions, and report any problems to InVideo's developers.
The developers are very responsive to these, and often we'll see brand new features being added.
Conclusion

So do I like it?
Despite my one disaster…
Yes, I do!
Now that I know how to prevent that problem from reoccurring, I can work with much more confidence. 
I enjoy the satisfaction I get from creating useful videos

I love the quality and simplicity

I appreciate the support and the ongoing interest shown by the developers

It's worth much more than I paid for it
So would I recommend it to you?
Yes, I would.

Where Can I Get InVideo?
I'd try here first, on AppSumo, just in case the offer is still on (that's my refer-a-friend link, by the way, so if you become a customer of AppSumo they'll credit me with $10 against my next purchase, but it won't affect your purchase – happy days!).
Here's where you can buy it directly from InVideo – or simply read more about it (that's an affiliate link).

Thinking about buying InVideo, the tool which claims to be the world's most versatile video creator? Here's a great review from a user - warts and all. #InVideo #video
Click To Tweet
Over To You
What's your favourite tool?
Have you ever bought something that was worth much more than you paid for it?
Share it with us all in the comments box below.
Would You Like Me To Make You an InVideo Video?
If you like the looks of what InVideo can do for you, but prefer to avoid all the hard work of making your own videos…
Take a look at some more of my creations and see the prices on my With Video page.