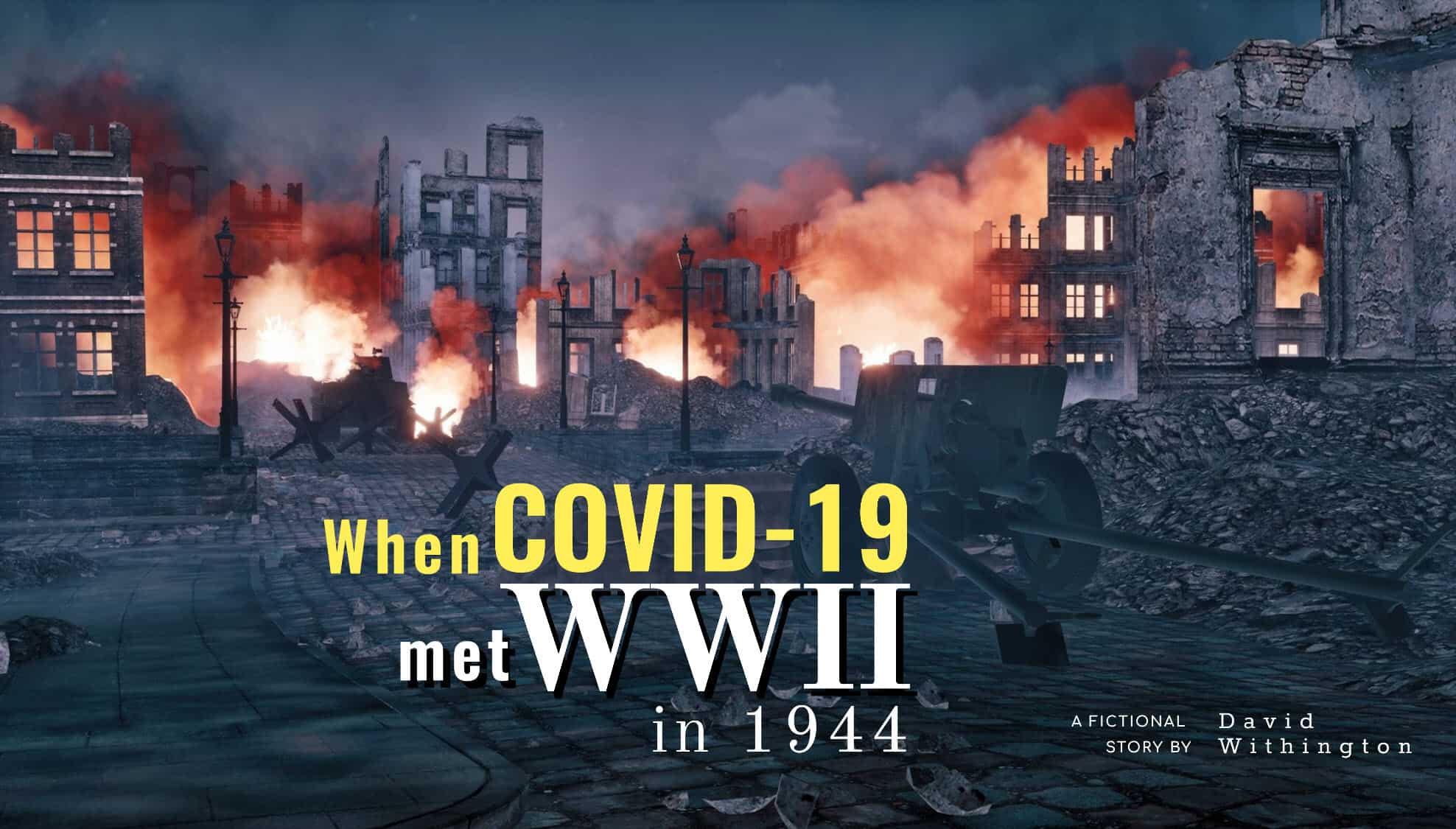 The grit is grinding in his teeth and burning his throat, and the irritating dust is penetrating his nostrils.
All the signs around him tell Dan that something major has happened.
"Wow! Where is this place?"
A strong smell of gas spells danger.
But from the smokey rubble of the collapsed building comes a faint voice.
"Help. Help me please."
It takes only a few seconds for Dan to run across the debris-strewn road and discover that the terrified voice belongs to a young boy. He looks to be around eight or nine years old. The tears, streaming down his dirty face, tells Dan that the lad's in pain.
"Hey! Come and help me!" Dan shouts to the tall man in the distance. "There's a boy trapped in here."
Even in his clean white polo-neck sweater and beige overcoat, the stranger is keen to help. Detecting the overwhelming smell of leaking gas, he stubs out his pipe, and the two men set to work releasing the boy, one brick at a time.
"Dan. And you are?"
"I'm Reginald."
"Reginald? I don't know anyone else called Reginald. Bit of an old fashioned name. How come your parents called you Reginald?"
"Not really. Many of my friends have the same name, actually. I use 'Reg' for short."
"Thanks for inviting me back to your place to clean up, Reg. Really grateful," says Dan.
He looks around. "I love the decor. Quite retro. You design it yourself?"
"You having a laugh? We spent a fortune bringing it up to date." Reg winks: "And we've now got an inside toilet."
Dan doesn't quite know what to think about that, so he fakes a laugh. Silently, mug in hand, he takes in the room's detail. It's clearly a kitchen… but very different from what he's used to. The authentic wood furniture. The real-fire iron fireplace. The old-fashioned clothes draped over a wooden frame which is hanging down from the ceiling on a waxed rope.
"So what happened out there?" asks Dan, breaking the silence.
"What?"
"The building. The rubble. The boy. Was there an explosion?"
"Where've you been?" asks Reg, now showing a bit of impatience in his voice.
"I don't know."
"What do you mean, you don't know?" retorts Reg. "It's another of those flaming bombs. Every night they drop them around here. Every night. I'm fed up."
"Bombs?" asks Dan. "What bombs?"
"Are you for real, mate? What year are you from?"
A sense of fear grips Dan. He knows it was meant as a rhetorical question, but the cold hard fact is dawning on Dan that he's no longer in 2020. Could this be sometime in the Second World War? Dan scans the kitchen for a calendar. His mouth drops.
Watching the colour drain from Dan's face, Reg asks, "You OK, old bean?"
"This is 1944?"
"Yeah! What year did you think it is?"
"I'm from the year 2020."
As soon as the words have left his lips, Dan knows he's opened up a can of worms.
"We'd better get you to a hospital. I think you've got a bit of concussion," says Reg. "Let me run up the road to my boss. He's got a car. And one of them fancy telephones. We'll get you sorted."
"No. I'm fine, thank you. The hospital will be looking after all those COVID patients."
"Those what patients?" asks Reg, now even more confused.
"Corona Virus. That disease from China. Surely you've heard of it."
"Listen. I know the Chinese are supposed to be allies in this war, but I haven't heard of them bringing any virus over to Blighty."
"Don't you guys have to wear facemasks, then?"
Reg rises from his chair and bends down to open the cupboard door. Reaching into the cupboard, he pulls out a huge gas mask.
Dan stares at the solid construction. It's a thick rubber mask with two glass lenses and a breathing ventilator attached to the side.
"That must be heavy…" he stutters.
"Don't you have one?" asks Reg.
"Err… no… we wear like… fabric facemasks… cotton… or disposable masks…"
Reg stares, trying to understand why Dan doesn't have a war-department-issued gas mask.
But before Reg manages to articulate what he's thinking, Dan jumps in.
"But it's all fake, isn't it."
"All fake?" asks Reg, now even more puzzled. "What's all fake?"
"It's a government conspiracy. Just to control us."
The silence in the room can be heard – for several seconds… although it feels like minutes.
Eventually, Reg takes a deep breath and speaks:
"So you're saying these devastating bombs are fake? You're saying that poor lad we pulled out of the rubble was an actor? These five years of hell are made up? And my brother wasn't really killed in France? I can't believe you have the audacity to say such a thing."
Dan's mouth has dried. He realises he's hit a very raw nerve. He knows he must explain himself. He coughs gently.
"No, I don't mean to offend you. But all these restrictions we have to suffer…"
Reg interrupts: "You mean the rationing?"
"Yeah," says Dan. "No toilet rolls on the shelves."
"No toilet rolls? No flaming toilet rolls?" steams Reg. "How rich are you to be able to afford toilet rolls in this war? What's wrong with using newspaper like everyone else has to?"
"But you don't understand…" says Dan. "Some people can't get to the shops. They have to pay a bit more to have their groceries delivered."
"Delivered? Delivered!? Are your friends stealing ration vouchers then?"
Dan goes silent. He's heard about rationing during the second world war.
"So is toilet paper rationed here too?" he asks.
"Yep. Toilet paper. And bread… and butter… and lard… and potatoes… and even tea and coffee is rationed. And meat… not been able to have a slice of meat for three years."
"How do you manage then?"
"We grow our own vegetables. We've turned over the lawn so we can grow our own stuff. A lot healthier too."
Dan changes the subject. "So how did you guys cope with lockdown?"
"Lockdown?"
"Yeah. When we had to stay at home for a few months. When we were told not to go to work. But the lousy Government would only pay us 80 per cent of our salary."
"Well, the way you put it makes it sound like Utopia," says Reg. "I'm confined to home because I got seriously injured in an exchange of mortar fire, fighting the Nazis in North Africa. The army sent me home to recover."
Reg unbuttons his shirt to reveal a matted mess of dried blood and raw flesh.
Dan didn't expect to see that. He wants to puke.
"Ooh, looks nasty. Sorry about that," says Dan, apologetically. "So is the Government paying you?"
"Paying me? No, my wife is paying me. She's the breadwinner now. She works in the munitions factory, making the bombs. She'll be home around 7 o'clock tonight – if she can safely make it home between air raids. The rest of my section is still fighting out there in the desert. Living on meagre rations. Poor guys; it's hell out there. The unbearable heat, the constant bombardment, the unexpected sniper bullets, the torture…"
Dan can see fear in Reg's eyes as his mind takes him back to the battlefield. He's heard on the news about how badly that post-traumatic stress disorder can affect you. So he decides he has to snap Reg out of it, quickly.
"Did you know that Wales has gone into another lockdown?"
"Wales? Lockdown? Another? No, I didn't know that. What for?"
"To stop the virus, they say."
"To stop the virus – that you think is fake – from our allied Chinese friends?"
"Yep. They can only buy essential items now in Wales. Some people are complaining because they can't buy books."
"Can't buy flaming books? You can have all my jolly books in exchange for a steak."
Dan ponders. "It must be really bad in 1944. Perhaps I don't really have that much to complain about, after all."
As Reg draws his breath to speak his mind again, Dan disappears.
Not like they do in the science fiction films Reg has been fortunate enough to be able to watch in rare visits to his local cinema. Dan simply disappears from view. Gone!
Reg rubs his eyes.
Dan rubs his eyes. And he stares at the white ceiling. He listens to the gaseous noises around. He smells the hospital environment. He senses something attached to his face.
"You all right sweetheart?" asks the nurse as she leans over him to adjust the oxygen ventilator. 
Dan tries his best to look into the nurse's eyes, but all the personal protective equipment, covering all parts of her body and face, prevents him from identifying her.
"We nearly lost you there, sweetheart. You stopped breathing for a while. You can thank your wife who identified the COVID symptoms and called 999. And those Paramedics who risked their lives to get you down here. You're still infected. But you're alive. That's the main thing."
"Thank you," murmurs Dan from beneath the heavy face mask. 
The nurse understands the muffled tones and replies, "You're not out of the wars yet. But we'll get you there."
"Did she really just say 'not out of the wars'?"
On queue, the nurse turns to wink.
Dan closes his eyes.
He hears a boy cry for help.
"Wow! Where is this place?"
What would happen if someone could travel back in time from COVID-infected 2020 to World War II? Is life better? Or worse? Dan is about to find out in this short story.
Click To Tweet
Next Read:
The Man Who Awoke in the Future