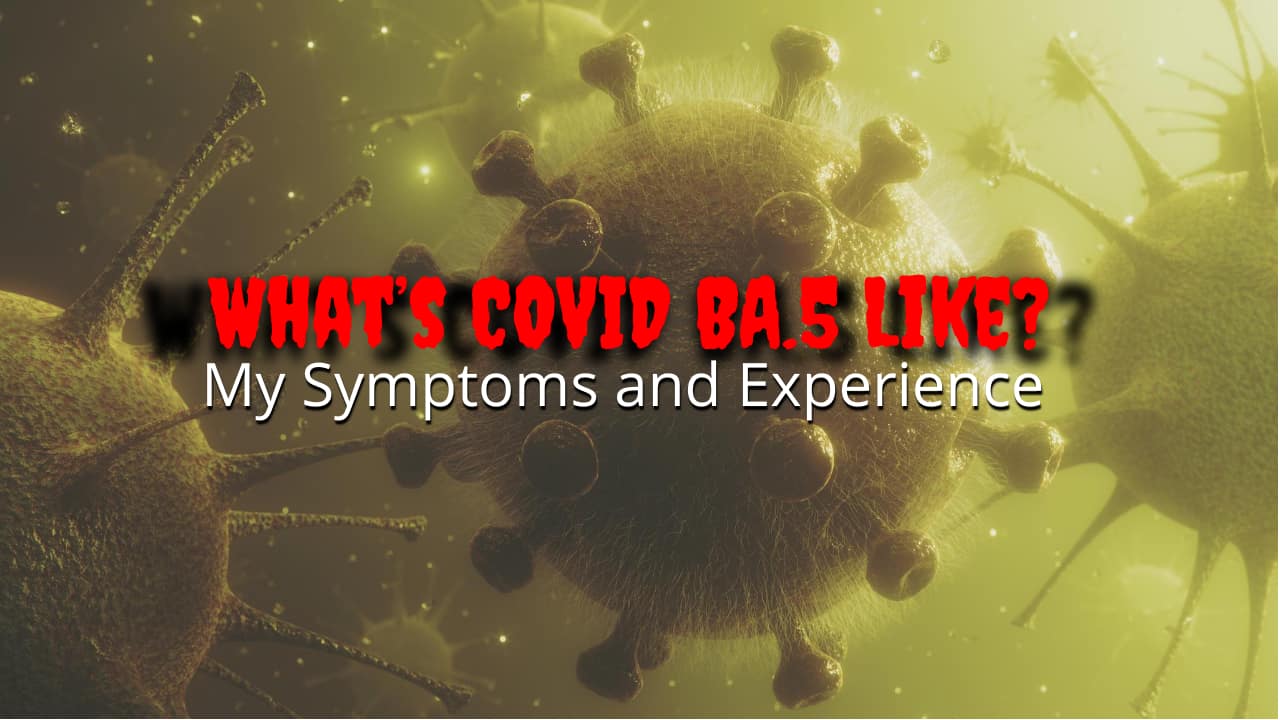 So I get the COVID Variant BA.5.
What's it like?
Day ONE is just like any other day.
Except that I'm tired.
But I put that down to having had a huge meal the night before and not sleeping well.
So I'm completely unaware that I might have Covid.
During the day I take the opportunity to snuggle under the duvet and take a nap.
And that also helps alleviate the slight chilliness I'm beginning to experience.
Day 2
Day two takes me by surprise.
I awake with a croaky voice.
What's happened?
Well, yesterday, I did a 45-minute lecture. And wanting to get it just right, I also did three or four practice runs of the talk. Over three hours of talking.
So it has to be that…
"No problem. I can handle this. Just rest your voice today, David."
So out I venture into the glorious sunshine, into the high summer temperatures being experienced over most of Europe.
But as the morning progresses, I begin to flag.
"This 33-degree heat is too much for me," I complain to my wife, and return to the safety of the shade.
Time to go to the NHS website and take a look at the symptoms of this latest covid variant BA.5.
Yep. Looks like I'm displaying some of those symptoms.
"But surely," I think. "I've dodged Covid for all this time! For two and a half years! Surely it can't be that!"
However, a Covid test proves otherwise.
And I'm about to discover for myself what Covid is like.
Help Me Make it Through the Night
The fever begins in the night.
I know paracetamol will help. But I'm too cold and shivery to get out of bed to get them.
When eventually I make the brave decision to leave the safety of my wrapped-around duvet and pop the paracetamol, pouring the water into the tumbler without creating spillage is quite a skill. As is drinking it without breaking any teeth.
I'll refrain from commenting on the skill needed at the bathroom visit.
This is when the coughing begins. And the runny nose requires a continual supply of tissues.
Day 3
No. Never. It can't be!
It's impossible to sweat so much.
I awaken to discover that my T-shirt is four times its normal weight.
And the bed and duvet look like they'd been doused by a fire hydrant.
How can anyone sweat so much in one night?
Thank goodness the room is warm or they'll never dry!
OK. Let's do a body check…
Runny nose

Cough

Headache

Croaky voice

Tired

Wobbly
So grateful for those paracetamols. Fortunately, they seem to regulate my body temperature and help me feel a little like normal.
Mid-afternoon, I begin to feel cold and shivery again, so once more I become a recluse beneath the duvet – which, thankfully, by now, has dried.
Well, that's until I realise it's well past the four hours since the last paracetamol dose, and now I can take some more.
Like a good friend bringing cheery news when all's going wrong, paracetamol is helping me cope through the tough bits.
The final dose of the day just before I hit the sack means I'll be able to sleep until 0400, when, yep, the pre-dawn shivering water-juggling circus act will perform the incredible feat of pouring a glass of water once again.
But not before shivering and procrastinating for another hour.
At least it will eventually provide for a little more sleep.
Day 4
You guessed it.
I win the Mr Wet T-Shirt contest again.
How is it possible to sweat so much in one night?
But logic tells me that my body must be doing its work and expelling the virus.
Go for it, body. Do your stuff.
Now there had been no "having the runs"… until today.
But thankfully, it's a brief experience. I just have to make sure I'm near the bathroom for a couple of hours. And that's it.
Next.
Day 5
Nah. It can't be right.
My T-shirt is dry.
Well, they do say 5 days, don't they?
So what are my symptoms on the morning of day five?
Runny/congested nose

A bit of phlegm

Much less croaky

A little tired
Feeling mildly chilly first thing in the morning, I take what I hope will be the final dose of my good buddy, paracetamol.
And it does appear to do the job, lasting me through the day.
As the fifth day progresses, I feel increasingly better.
I'm still glad the room temperature is warm.
But the symptoms are improving.
Yes, I think I'm on the right side of Covid.
I'm on the mend.
Day 12
It's been slower progress than I expected.
Yesterday I went for a brief walk.
Nah – not ascending Ben Nevis. Just around the block.
And today I did some gentle exercise.
The appetite is back.
And I think I'm almost back to normal.
Grateful
I'm so grateful that I'm fully vaccinated. And all that cost me absolutely nothing. Thank you, NHS.
I've had the booster, and I intend to have the second booster in the autumn.
Without those vaccinations, I would not like to think how much worse the symptoms would have been.
Sad
My cousin's daughter got Covid before the vaccine was available.
She developed breathing problems which resulted in pneumonia, and she died.
Heartbreaking.
Hope
This new variant appears to be extremely contagious.
I hope you don't get it.
But if you're unfortunate enough to become infected, I hope the brief description of my personal experience helps you cope and look forward to day 5 and beyond.
Cheer
Want to put aside Covid concerns, and get a little more cheerful?
My email will do that.
I write it on average once per month. 
And I promise to share positive stuff.
And a good joke or pun.
Here's where you can join the others and receive it.