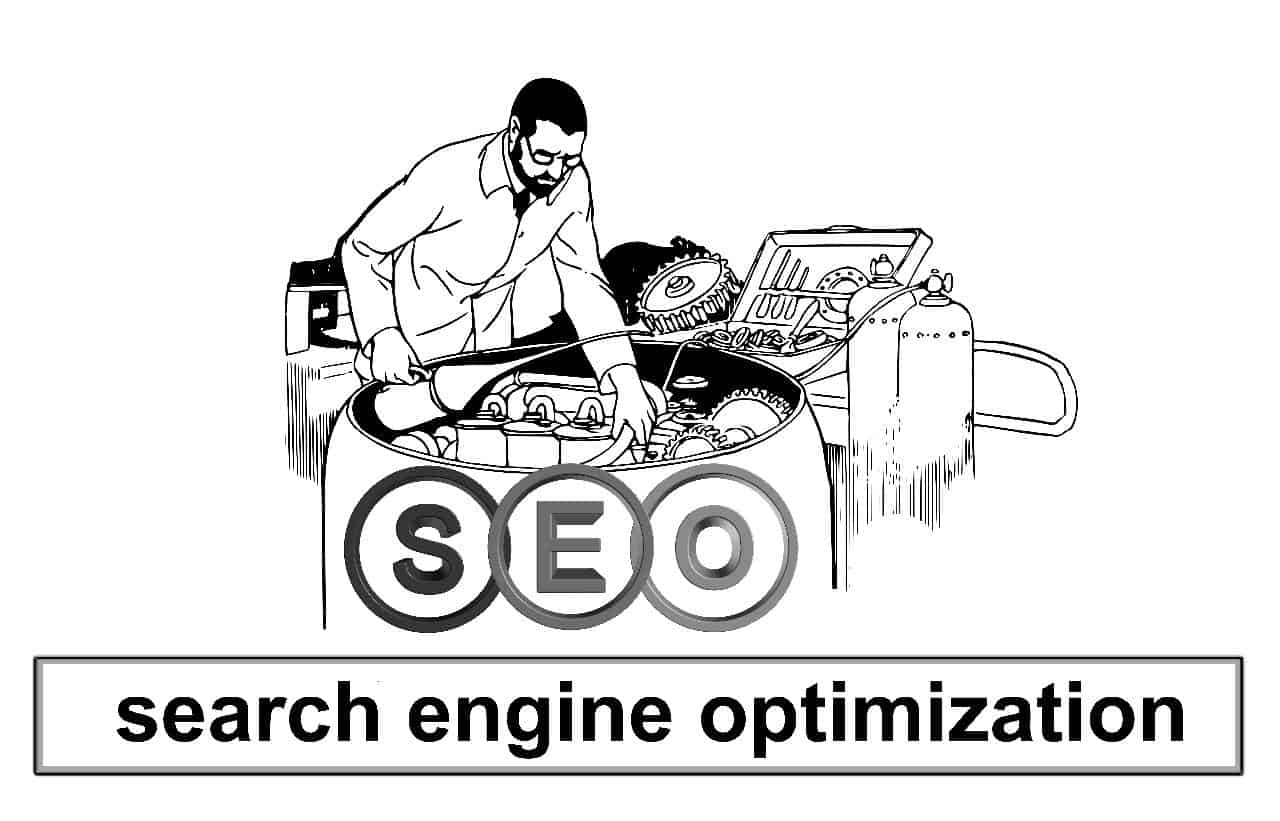 What is SEO?
Whichever way you spell it…
Search Engine Optimisation
Search Engine Optimization
It's optimising the content on your website to get the best chance of it being found on Google (other search engines are available, by the way).

How Do You Optimise Your Content for Google?
Hey! There's stuff all over the internet to teach you this stuff.
So I'm only going to tell you what actually works for me.
I'll share those SEO principles that get my blog posts onto page one of Google.
But before you ask…
No, SEO isn't achieved at the click of a button.

Yes, good SEO is putting in hard work and creating great content.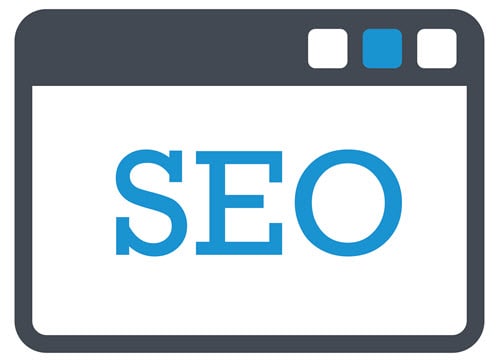 Top of 3 Billion Search Results
One of my other websites simplifies techie stuff.
It's for people who think technology might have left them behind.
And as you might expect, because I'm from Wigan, love puns, and enjoy playing with words, it's called Tech it Easy.
Cool name. eh?
Anyway, here's a search I did out of curiosity on 1st July 2023.
It's right at the top of page one.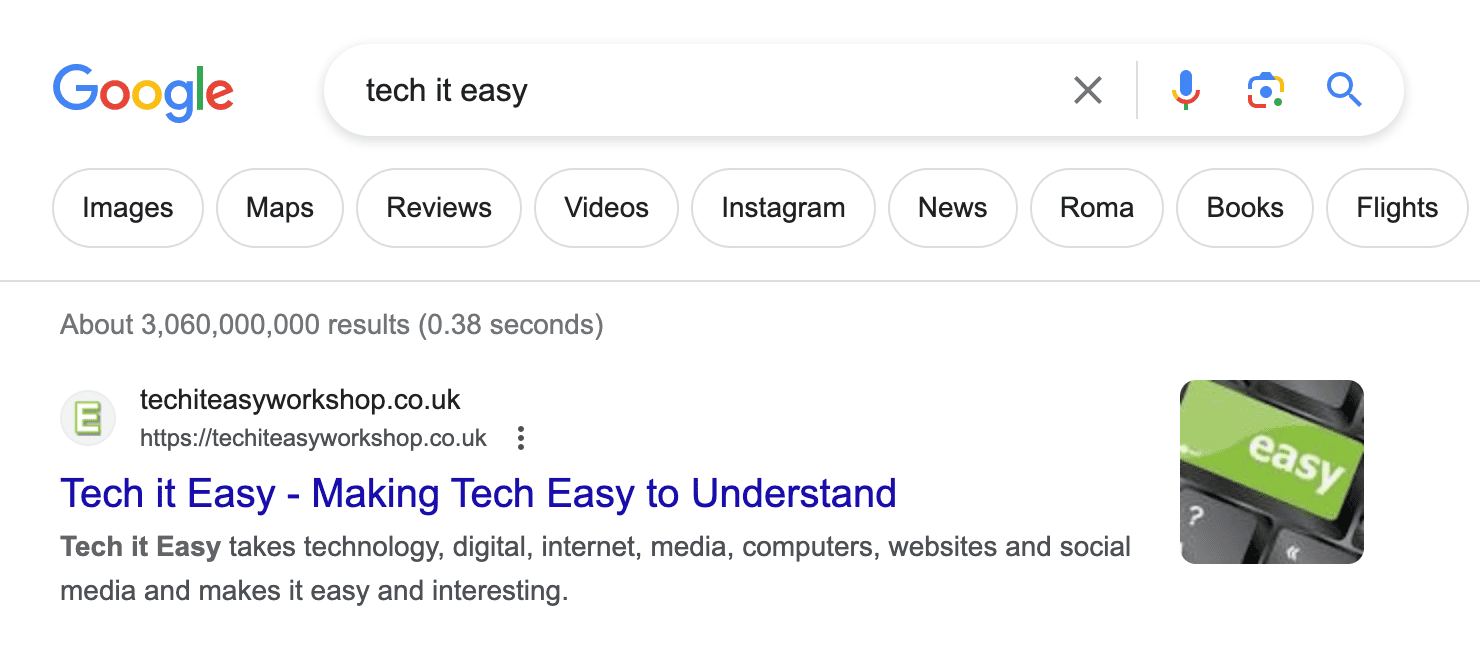 Where Did The SEO Go?
But what is at the top of a Google search today might not be next week. 
Here's a blog post I published in July 2019. The screenshot was captured on 22nd August 2020.
Out of 2.2 billion search results, Google chose this as its featured snippet.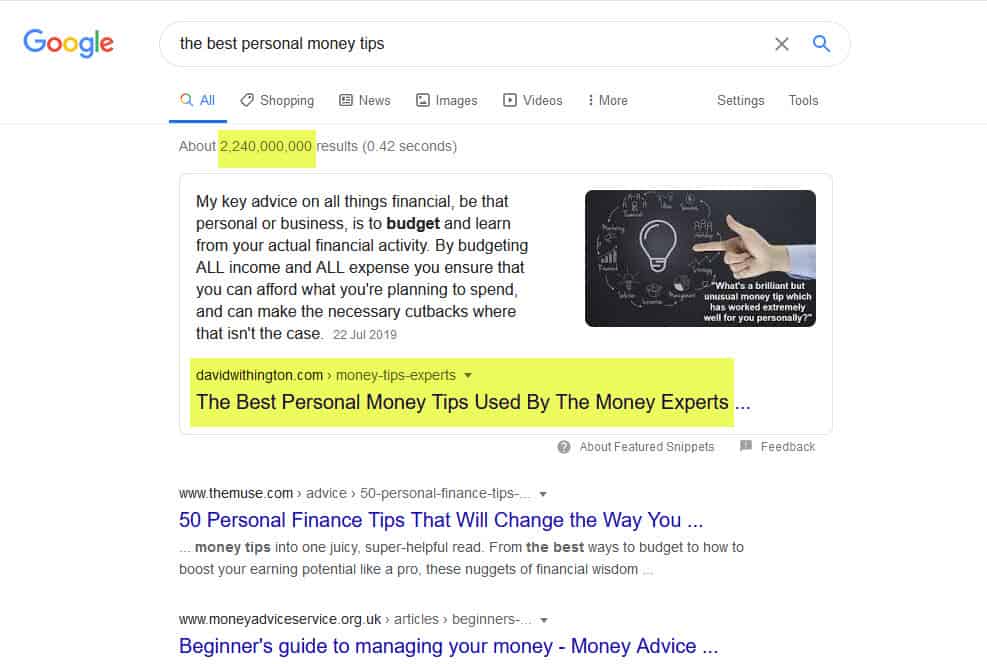 Why was that?
Because helpful content – which answers people's questions – is the most important thing. 
Puns and SEO
My friends know I love puns. And some had asked how I thought of them.
So I wrote this blog post about "how to think up puns".
Here it is, right at the top of page one.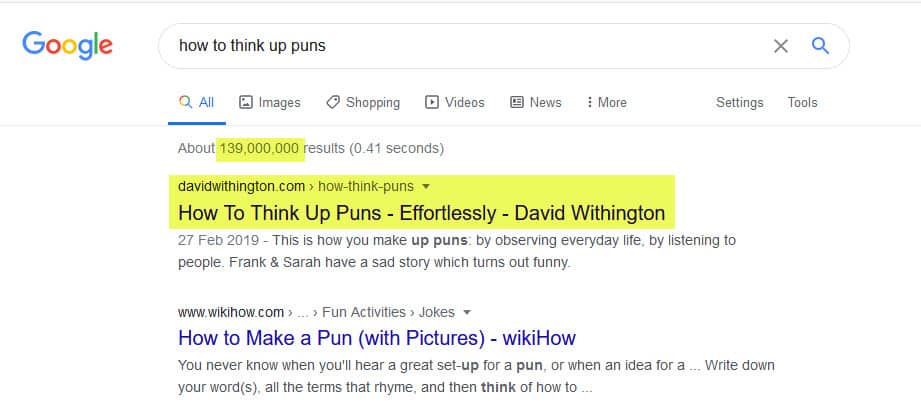 Moved from SEO Top Slot?
One thing to remember is that what's in position one today might not be tomorrow.
Those two weren't right at the top when I checked in 2023. 
But they were still on page one.
So how can we stay on page one?
We need to keep creating regular quality content.
But what's that? What exactly is SEO-worthy content?
SEO-Worthy Content
So it's simple.
Answer people's questions.
That's what I do. And it works.
I learned that important principle from this book, They Ask, You Answer, by Marcus Sheridan.
Yes, great content – which answers people's questions – is the most important thing.
But it's often missed – because we tend to think of SEO as a scheme to coerce Google into giving us favour.
Other SEO Principles
Once you've created great content, here's how you can optimise it further.
I've broken it down into two parts: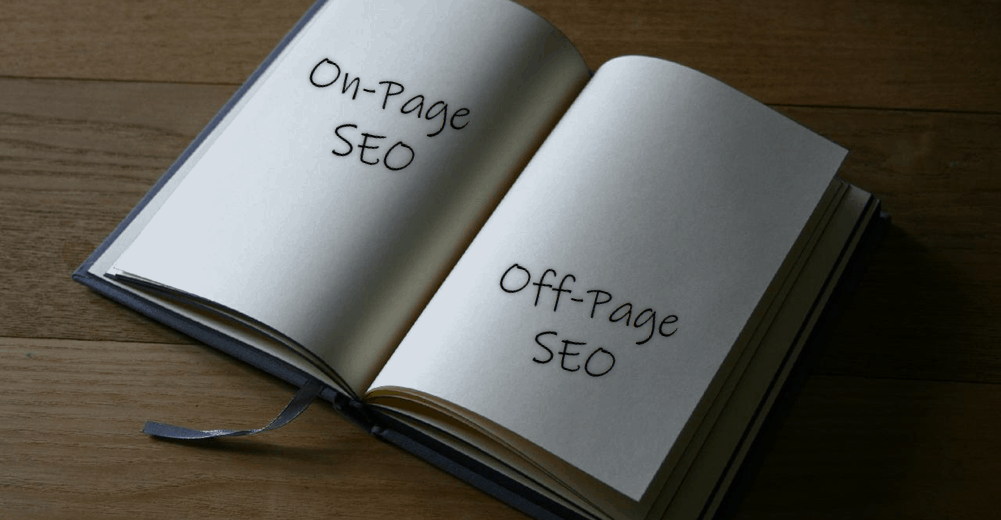 On-Page SEO
These are the things you can do on your blog post or web page.
Keywords
Make sure each page title contains your main keywords.
And also include them in the article.
Don't Keyword-Stuff
Put the keywords into your content.
But don't stuff it with keywords.
Google will penalise you for trying to play the system rather than writing for humans.
Headers & Subheaders
Try to have a relevant keyword in the H1 header.
And also in any H2 headers that you use as subheaders on the page.
Photographs
Make the title of every photograph relevant.
If your website is about fishing for salmon, and the photo is of a salmon, the title probably should be something like salmon.jpg.
Or maybe a longer key-phrase such as fishing-for-salmon.jpg.
Add a similar keyword in the alt text for those photos.
Alt text is the description of a photograph that visually-impaired people rely on; their computer will read that description to them. 
Also, it's what you will see if a photograph fails to display because the internet's slow.
And it's good for SEO purposes.
Links
If there's something you refer to on another page, create a hyperlink to that page.
Anchor Text
Anchor text is the word that has a link from it.
So rather than simply copying & pasting the URL, write a word such as salmon fishing, and make that word into a hyperlink.
For example: Website vs Facebook Page is the anchor text containing a link to an article about that subject.
Meta Description
Write a relevant meta description. Technically, It might not do anything for SEO but it will serve you well when people scan down the Google search results, read your apt description, and decide to click on your article.
Google will notice when people choose you.
Regular Content
Create fresh content regularly.
I've put this at the end of this list, but it's one of the most important.
Make sure you're publishing content regularly.
Off-Page SEO
These are other things you might be able to get other people to do to help you.
Backlinks
If you can get another website within the same niche to create a link back to your website, that'll be great.
And if that's a well-respected website such as an educational website, that'll be fantastic!
Anchor Text
Make sure the anchor text on backlinks to your website is natural.
For example, you don't want 50 backlinks from the same website, with each one saying "fishing".
Don't Buy Backlinks
They're often from dodgy websites. So you might end up being de-listed by Google.
Niche
Make sure links are from websites within a similar niche.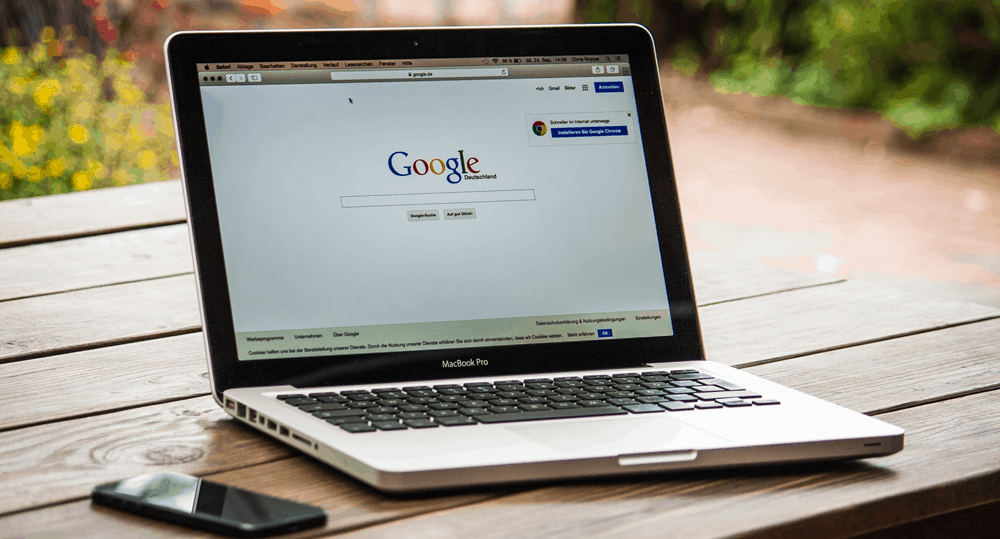 SEO Workshop
One of the Tech It Easy Workshops I run is all about SEO.
Tech it Easy takes online and techie topics – and simplifies them. 
The SEO workshop looks at how I applied these principles to get my articles onto page one.
And shows you how to do the same with yours.
The small group setting makes it great for questions, interaction and demonstration.
If you'd like me to run this workshop for your group – or would like to know the next time I run it, and where – give me a shout. 
Here's the Tech it Easy website …where many techie questions are answered simply.
Hey! Did you notice the use of the Anchor Text for the hyperlink, there?
More Examples of SEO
Finally, a few more Page One rankings to show you the importance of answering people's questions.
This really works!
Heating on Continuously or Timed?
In the winter, many people want to know whether it's more economical to run a boiler continually or to stitch it on and off.
So I wrote a blog post about it to… err… answer the question.
At the time I took this screenshot (23rd August 2020), this was Google's chosen snippet at the top of page 1.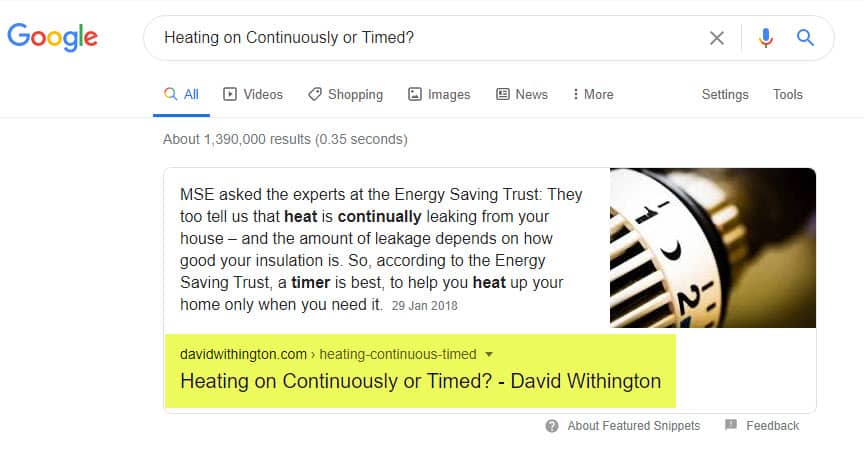 Is Decaf Tea Safe?
Well, we can't be the featured snippet all the time. Sometimes position 2 will have to do.
This article was to answer a question someone raised in a conversation during a brew at work.
Is decaf tea safe?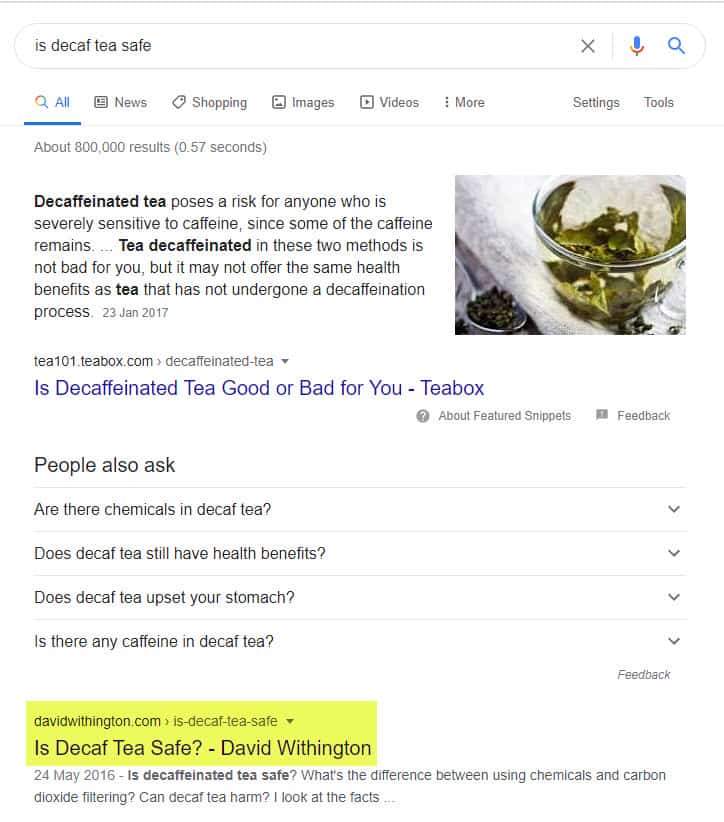 Kindle Screen Problems
When my wife's Kindle broke and the Amazon customer service agent was very helpful, I wrote a blog post about it.
Anyone who searches for Kindle screen problem – once they've read and tried Amazon's restart instructions – will see my independent article.
I just wish Amazon had been that helpful again when my own Kindle broke 3 years later. Never mind.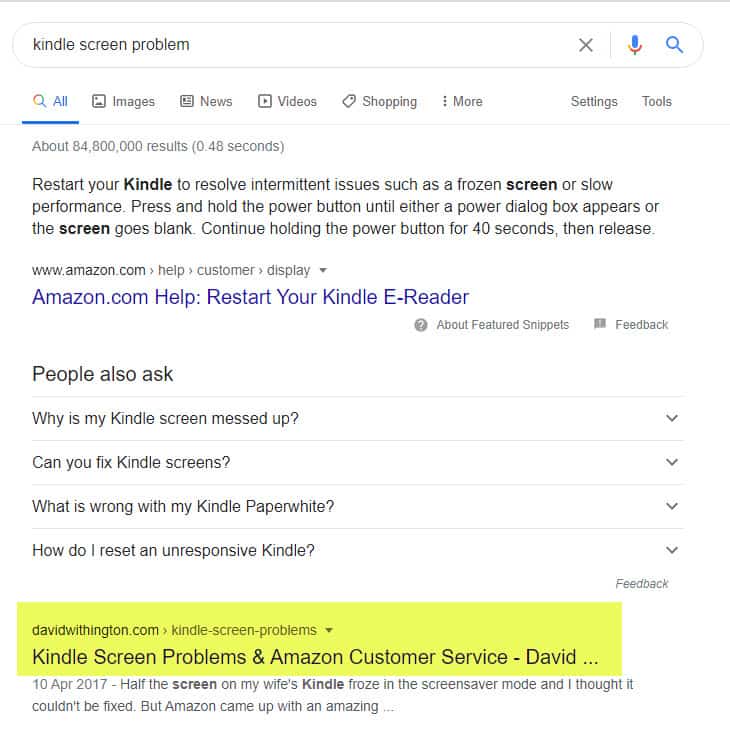 How To Cruise
On one of my other websites, How To Cruise (the website for newbie cruisers), I answered the question, are there enough life jackets on a cruise ship?
Again, a genuine question that someone had asked me.
So the principle remains strong…
If someone asks you, there's a good chance other people are asking Google.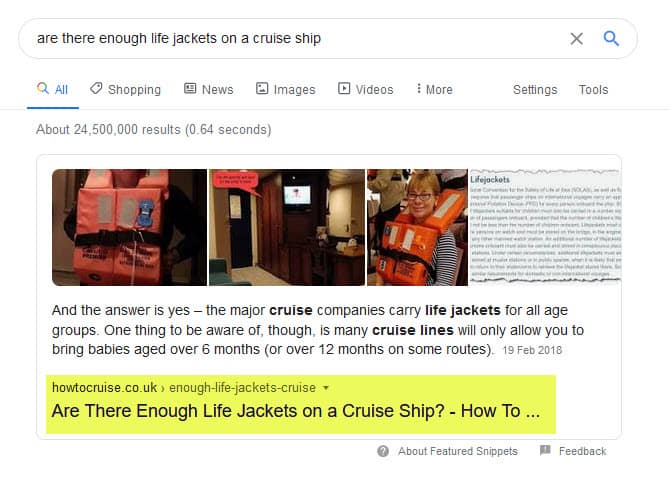 Again, Google used this article as its featured snippet (screenshot taken 22:08:2020).
And my wife, Christine, is thrilled to have been immortalised by that photo of her on Google…
Well, maybe she is.
I wrote a similar article to answer the question, "are there enough lifeboats on a cruise ship?" But I'll let you search Google for that one.
Address People's Worries
One final screenshot. I promise!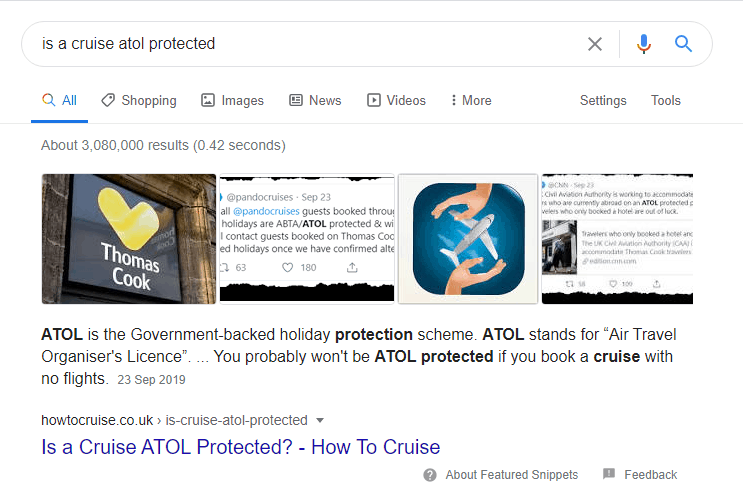 When Travel Company Thomas Cook, unfortunately, went out of business, many people were asking if their cruise was ATOL protected.
So I answered the question with a blog post on my cruise website.
A few months later, during the uncertainty surrounding Covid-19, the same question was being asked.
And whose article did they find in the featured snippet slot right at the top of a Google search?
Listen! Answer people's questions and you're halfway there with your SEO.
SEO, the Entrepreneur, and the Noisy Cafe
To illustrate how to answer people's questions effectively, I wrote a story of a meeting with a new garage owner looking to get found on Google.
You can find that here: How Do I Get Onto Page One Of Google? 
Hey! Did you notice the use of that anchor text again? Please do remember to use it on your own website!
And remember to tell me when you get onto page one. I'll crack open a bottle of wine to celebrate for you.